James Morrone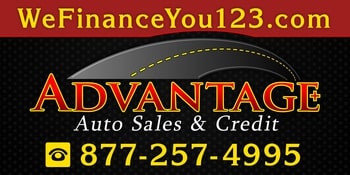 I shopped around for a car. And I came back because of the selection of vehicles. And the Great Customer Service! A new opportunity awaits you! Thank...
Edward Rimbenieks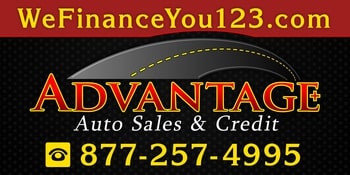 Conversational, relaxed, transparent and professional. These are the adjectives that immediately come to mind when I describe my experience with Advan...
Brandon Zahir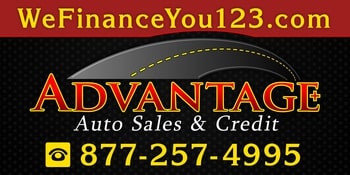 I bought my 2012 Chevy Cruze Lt from Jeff and I love it! Amazing experience and awesome deal!
Lita Diorio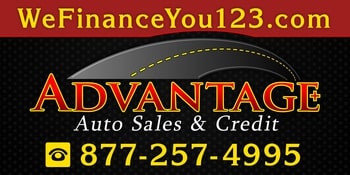 I came back a second time because I love the service and Jeff's willingness to work with me. I got an amazing 2012 Chevrolet Sonic and she's a peppy o...
Lisa Stevens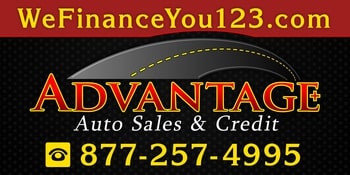 Jeff was Very helpful and made sure understood everything being that it was my first time financing a vehicle. He also worked with my down payment and...
Alex Sonier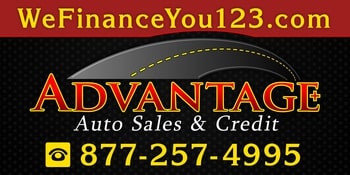 Just bought a great car. Thank you so much! Sales team super helpful!
Stacy Yoder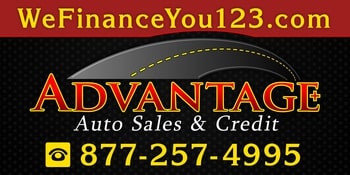 Jeff and the whole staff made me feel welcome. They were very understanding and worked with me to make sure I got the best car that was suited to me...
Iggy Strasberg

Top notch service! Clean dealership, nice people, you have to see it for yourself. Great job guys, you are the best.
Nathan Biggs

Being recently divorced, I didn't think that I would get approved for a vehicle, but I was wrong. Thanks Tom, you are the man!
Laura Cox

I just wanted to say thank you to Tom. You guys are awesome, and I and going to post about you on Instagram.
Francis Harlsburg

You guys rock!!! Thanks for all of the help with the new ride!
Travis Jorgensen

I have purchased 3 vehicles, for my 3 boys at Advantage Auto Sales. I won't go anywhere else.
La'Shonda Wilkes

With a growing family, I was in need of a larger vehicle. I was able to get approved and pick up the van the same day. Thank you for all of your hard ...
AJ Johnson

I had a great time at your dealership. It is nice to see that there are still people that care about others and can help them. You have an A+ in my bo...
Eddie Washington

You guys rock. I got turned down by 2 other dealerships, however whatever magic you pulled was able to get me into a car. Much appreciated.
Keith Goodson

Initially I asked around to my friends on where I should go to get a new car. After 5 of my close friends recommended your dealership I had to see it ...
Heather Marie

I have purchased 3 cars from Advantage Auto Sales, and I won't be stopping anytime soon. You guys are GREAT!!!!!
Ron Thompson

Just call and ask for Tom. He can make miracles happen.
Chad Keller

I had a wonderful experience with your dealership and your staff.
Caitlin Combs

I was recently forced to leave my job at a hospital. I needed to get transportation and I heard from a friend about Advantage Auto Sales & Credit. Bes...
Luke Yarbrough

Top notch service from top to bottom! I'm glad that I listened to you, because my wife likes the red one better too.
Brandon Temple

I just bought my 2nd car from AASC, I love these guys. Honest, and willing to work with you. Ask for Tom.
Zane Michalis

I have worked in the auto industry for 10+ years, and recently moved to PA for business. I had heard a lot about Advantage Auto Sales and gave them a ...
Martin Dans

Thank you for all of your hard work. I can't tell you how appreciative I am. You have a customer for life.
Hillary Thompson

I would recommend Advantage Auto Sales to anyone that is in the market for a vehicle. I was treated nice, and got a wonderful new car.
Daniel Franks

I was suprised with the time that it took to get the deal done. I was in and out in 1 hour. Thanks guys.
Cole Johnson

Thanks Tom! You Da'Man
Valeria Dega

I thought as a woman, that I would get treated differently, but I didn't. I had a great experience, and now have a great car.
David McDaniels

I was looking for a truck with 4 wheel drive and had been searching all around for it. I ended up finding it from Advantage Auto Sales. I got a lower ...
Henry Perkins

3rd car just purchased!!! Keep up the good work.
Tim Cunningham

Great Job, Great Service, Great Staff!
Rob Aronstein

Friendly staff, good prices, clean vehicles what more must I say.
Mason Rind

I wont go anywhere else to get a car. I have purchased 7 cars from these guys over the last 10 years. I always trade UP.
Mira Glemp

Just bought my son his own car here. He loves it! Thank you guys for all of the help.
Jeff Higgins

If you need a new car, these are the people to see. They are honest and trustworthy.
Jimmy Strats

I absolutely love these guys.
Mike Williams

I had a great experience with you guys, and I love my new SUV. I will make sure to tell my friends and family about you.
Rachel Forbath

I love my truck so much. thank you again for all of your help. I get excited to drive it!
Francis Lemieux

I just have to say that buying a car from your dealership was a pleasure. keep up the good work. It is hard to find these days.
Ralph Fitz

I was looking for a car for my daughter, and wanted to make sure that it was a safe car. I took it to a mechanic, and it cleared 100%. I now feel safe...
Daniel Feinstein

Ask for Tom, he is the best. I was in and out in 30 minutes.
Cindy Alsatian

I had been looking for a van for 3 weeks, and finally found the perfect vehicle here. The staff was very nice and professional.
Mike Fletcher

Tommy, Gunnar and the whole Advantage team made my experience top notch. Can't beat the service and attention I received at Advantage. I highly reco...
Darren Foust

I have to give it to you straight. You guys have a wonderful staff, and it was a pleasure working with your team of employees. I will definitely be ba...
Brody Johnson

I was in a car accident, and needed to be able to get to and from work while the repairs were taking place. I was able to find a work truck that I was...
Ken Whitehurst

Thank you for getting approved for my new Truck, I love it!
Juan Rizzo

I appreciate the time that you spent with me. I know that most people don't test drive 6 cars, but you let me make the right decision on my purchase. ...
Brian LaCade

I had a wonderful experience at Advantage Auto Sales. I would recommend them to anyone tat is looking for a car.
Cynthia Bowers

I appreciate all that you did. You have a wonderful staff, and I left with a wonderful van.
Lisa Shaw

I was skeptical about buy here pay here dealerships from stories that I have heard in the past, but I was 100% wrong. Go see Advantage Auto Sales & Cr...
Hunter Northless

I just got back from deployment from the military and needed to get a new car. These guys were able to help, and I got a better deal on the car than I...
Rhonda Witten

Thank you guys for all of your help. Now that school is back in session the van that I bought will be a blessing for getting them to and from school.
Thomas Goff

Thank you guys for all of the help! I couldn't be happier with my car! You guys are awesome.
Al Jones

I can't tell you enough how much I appreciate these guys. They are the best at what they do.
Don Casper

Thank you for all of your help. I can rest assured that my daughter will have a reliable car at college.
Brittany Lauchner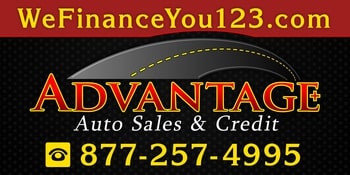 They are absolutely amazing!!!! This is my 2nd car with them, they help you even if your struggling financially. Customer service is great!! Gunnar, K...
Olive Katz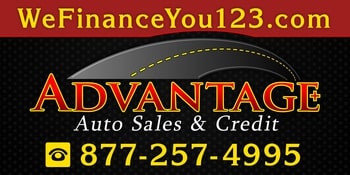 I have never felt more comfortable buying a car. Gunnar is amazing he had everything in order before I came in so my sale was smooth and fast, AMAZING...
Joe Eisler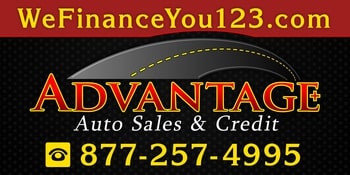 Very polite, friendly, really helped us out! We got a very good car, low payments. They even helped us get insurance. The process was very quick and n...
Wendy Young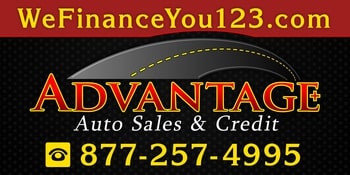 Totally loved my experience here. Everyone was so helpful . Needed a car fast and Khara did everything to make that possible. Would recommend to anyon...
Sara Menzak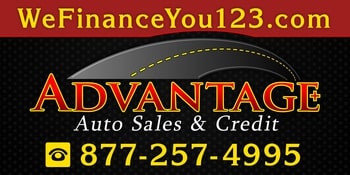 Walked in and right off the bat everyone is welcoming and friendly. They broke it down very simple and worked with us. Fast, easy and drive away. I re...
Amber Rose Hobson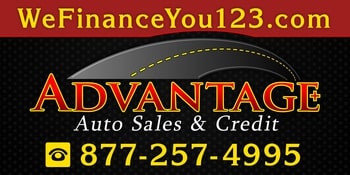 Great experience, great staff. Gunnar "the salesman in shorts" help me get into my first car. Thanks so much Gunnar.
Lori Worthington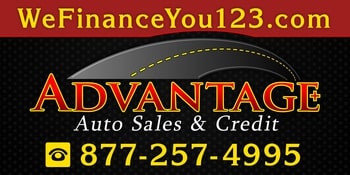 I like how everybody is so friendly. They are willing to work with you no matter what. They go above and beyond what other dealers do. They get you in...
Rainy Helms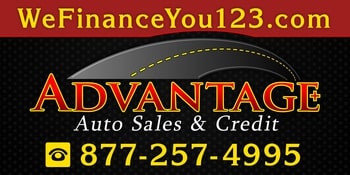 I had a wonderful experience!! The people were very nice and explained everything the best way possible to make sure I understood everything. The cars...
Carrie Godshalk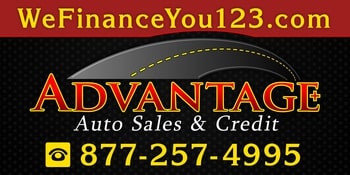 When the unexpected becomes reality it can be scary. That is the situation that we faced last week when we totaled our family vehicle. Needless to say...
Austen Harris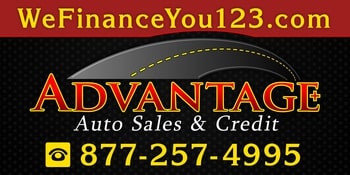 WOW! Can't say enough good things about Advantage Auto and the Staff. I lost all hope of having a car, until I ran across an ad for Advantage. I calle...
Grace Oroato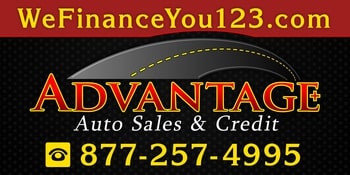 After numerous let-downs at several other car dealerships I happened upon an ad on Craigslist for Advantage Auto Sales. We didn't want to get our hope...
Nicole Gilleo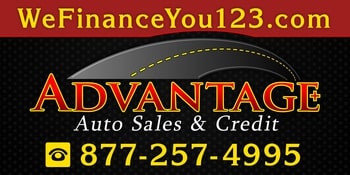 Honestly when my husband and I were told that we would be approved with in minutes I thought yea right we will be there 5 mins and told " Sorry we can...
Brian Schaffer

"Excellent customer service. Pedro & Tara were very kind and professional in assiting me into getting into a reliable car that fit my family's needs a...
Rebecca Ressler

"I researched a lot of dealerships before I came to Advantage Auto. Other dealerships wouldn't give me the time of day because I was just looking for ...
Brandy Trinidad

"My experience here at Advantage Auto was very pleasant. I was very well taken care of. I was made to feel like I was important and appreciated. Thank...
Martin Salendel

"Been here before. Last time was 2 years ago or more. Missy was wonderful then and is simply amazing now. I swung through just to look and talk about ...
Lamont Bennett

"My experience with Pedro was professional and courteous from the beginning. From the moment we walked through the door he greeted us as friends with ...
Donovan Fairfax

"Tara was very welcoming and professional. I had some difficulties but she worked through it and got me an excellent car. The whole Advantage family h...
Christopher Merrill & Eva Mae Trail

"Advantage Auto did an awesome job! It was a very quick, easy process. We were well informed of everything and were very pleased with the service prov...
Kimberly Kroninger & John Kincade, Jr.

"Everyone was good and helpful. Worked with the money down and arrangements needed."
Joy Alcott & Kevin Dawson

"Josh and Tara really make this company! This is my second car from there and I don't even look at other dealers because I know I'm getting honesty an...
Correy Perry

"We came in not thinking we could get a car but left here in a very nice one! Thank you Advantage Auto!"
David Green

"I had a good experience buying my car and had no problems. Tara took good care of me."
Karen Moore

"He is a very nice man. I felt like he knew me for a long time."
Keith Bauer

"Josh was very honest and very pleasant! He even helped out with getting us to Advantage Auto to get our paperwork done and get us on the road! We wer...
Michelle Odom

"I had a great experience and my sales rep was very good. They were good with my children."
Debra Lee Hager

"It was great!"
Tim & Melissa Schaffer

"Fast service, was in and out quickly. Service was outstanding."
Leslie Sailey

"My experience buying a car was so easy and Josh Tanon was very helpful. Throughout this experience, he went above and beyond to help me and my family...
Sylvia Amador

"Thank you Tara for helping me with everything. You truly made this an experience I'll never forget. And a big thank you to Josh for getting me as muc...
Sherry Santangelo

"Josh was wonderful, caring and really tries to help you out every way he can! Josh was friendly, pleasant and concerned about taking care of you ever...
Lexus Maher

"Had a great experience. My dad was a previous customer and loved it. Thanks for everything."
Randy & Barbara Walter

"We had a great experience with Tara. She kept in contact with me till we found the right car. She did great."
Jared Lyons

"Tara was excellent - very friendly and patient. She deserves a raise."
Carissa Seidel

"Love you guys"
Nancy Ramassini

"Everyone was so nice here."
Carissa Seidel

"You guys are awesome, Tara you are incredibly responsive to questions, Josh you are incredibly awesome at what you do.. thank you for everything, Jax...
Mary Campbell

"I went here today and got a new car! I worked with Josh and I couldn't be happier! I spoke with him and told him what I needed and he called me back ...
Eva Trail

"We absolutely love love love this place. We walked out with our van the same day, and couldn't be more satisfied. Josh is awesome and helped us throu...
Scott Lemaster

"Hey, I will be the first to admit that I am the biggest pain in the butt out there! That being said I have been with advantage for a long time. I am ...
Alicia Lopez

"I was in a serious situation. I needed a vehicle that was going to be reliable and not something i was pouring money into for repairs AND making paym...
Nicole Godown

"Advantage auto sales is a great place to go! They really help you find what you love and work with you 100% you'll leave feeling very satisfied and a...
George Kline

"I got four cars here. I never had a problem - everyone that works here is friendly. Recent I had problems with my car. I called and the staff moved f...
Rebecca Ressler

"1. The sense of community - You really feel like you're a part of a family with Advantage Auto, not JUST a customer. They take a vested interest in e...
James Lysoby

"I am very glad my family came to Advantage. Let me explain who and what they are for those who might not understand. They are not a new car dealer, a...
TARA S.

I been communication I ng with sales lady Tara since2015.I had my eye on Chrysler 300 but but the times I wanted to get to the dealership ,there was s...
Joe Branconi

I had a really great experience getting a car, and have had exceptional customer service ever since. Barbara has been a tremendous help. Thanks again ...
Aaron Hay

I'm on my 3'd vehicle through them. They've always been very nice. Gave me help when my car needed big help and i couldn't afford the upfront payment ...
Tom Townsend

Great sales Team and Financial office is very helpful and will get you in a new car with NO Problem !!!!!
Teresa Leggett

This my second vehicle with them, all I have is great things to say....they really stand by you, the staff is excellent. Looking too get my 3rd ve...
Serina Tanon

Must say that they are definitely a big help with getting you into a car when you need it most