Do You Have Your Golden Referral Ticket?
You know how we love referrals!
Nothing makes us happier than helping you make $$$ while you get closer to having your loan PAID OFF!!! That's why we're SO excited about this GOLDEN REFERRAL TICKET promo! Check your mailbox for a letter containing this ticket. This ticket is very valuable to you and the one special person you decide to give it to so please make sure you give this ticket to someone that you know will buy a car from us. The lucky person who redeems this ticket will receive $1,000.00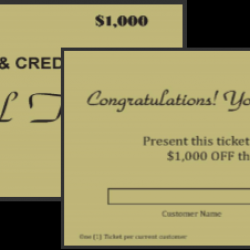 After your Referral drives away in their new vehicle, the GOLDEN REFERRAL TICKET, which has your name and stock number on it, will be entered in a drawing to be held on December 16, 2016 where one lucky customer — hopefully you — will have their loan PAID OFF!!!
It's just that easy!!!
Bring your special someone and your GOLDEN REFERRAL TICKET in to see us today!!!
Please contact us at 215-257-4995 if you have any questions.
Good Luck!!!